Now that the cold season is approaching, its time to start preparing your skin for the dry weather. Your skin is constantly loosing moisture due to indoor heating, hot showers and cold wind outside. So, a moisturizer works to provide and lock moisture in your skin. With so many brands and types to choose from, its easy to find the perfect moisturizer for your skin type. Moisturizer is a basic need for your skin so you want to find an affordable product that works well.
There are few things to look for in a moisturizer.
Basically, moisturizer acts as a temporary barrier between your skin and environment. It holds water in the outermost layer of skin. There are few factors depending on your skin type, age and specific conditions such as acne or dry patches. Moisturizers are mostly available in cream, lotion and gel form.
The best time to moisturize your skin is right after you shower or bath. Apply on damp skin for most absorption. Every time your skin comes in contact in water it loses moisture so re apply moisturizer during the day as well.
Moisturizer ingredients to avoid:
Parabens, Fragrances, Alcohols, Mineral Oil, Paraffin, and Petrolatum
Moisturizer ingredients to look for:
Vitamins, hydroxy acids( such as glycolic, lactic, malic, and salicylic acid), retinnoids.
Some good moisturizer products: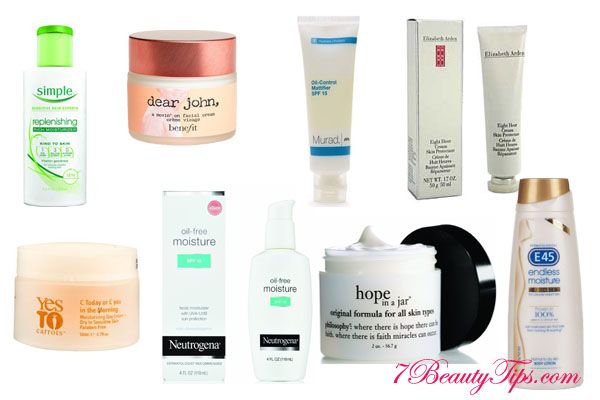 Simple Replenishing Rich Moisturizer

Benefit Cosmetics Dear John

Murad Oil-Control Mattifier SPF 15

Elizabeth Arden Eight Hour Cream

Yes to Carrots Day Cream, Rich Moisture

Philosophy Hope in a Jar Daily Moisturizer, All Skin Types

Neutrogena Oil-Free Moisture, SPF 15

E45 Endless Moisture Radiance Body Lotion
Here's a guide for picking out the right moisturizer:
Dry Skin: Choose a heavy oil based moisturizer that has antioxidants, glycerin, ceramides, triglycerides, or sterols in the ingredient lists. For very dry skin, petrolatum based products are preferable.
Oily skin: It's a common perception that if you have oily skin you don't need moisturizer. Just because your skin naturally produce oil doesn't mean you should moisturize. One of the main reason for increased oil production is excessive washing or using harsh cleanser on your skin. In order to overcome dryness your skin produces excessive oil. Applying moisturizer will balance oil production. Oil free, water based moisturizer are best for oily skin. Look out for " non-comedogenic" on products so it wont clog your pores.
Normal Skin: Normal skin has a natural moisture balance. To maintain this balance, use a light water based moisturizer.
Mature Skin: As you age your skin gets dry and wrinkles start to show. Choose an oil based moisturizer that contains petrolatum to keep your skin soft and hydrated. Also, antioxidants and alpha hydroxy acid to combat wrinkles.
Sensitive Skin: Avoid fragrant moisturizer. Look for natural ingredients such as Aloe Vera or Chamomile. Try to avoid moisturizers containing acids.
What you take internally is the key to soft and smooth skin. Keep yourself well hydrated with 8-12 glasses of water daily. During winter you may not need much water due to the cool temperatures. A good alternative is the intake of green tea.