French manicure makes your hands look neat and presentable. To get French manicure we all go to salons and get perfect manicured hands because we all think its hard to get that perfection. With a little effort, it could be easily done at home.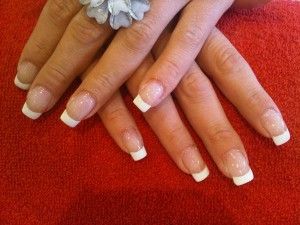 To give yourself a French manicure you will need:
Nail buffer or file to smooth the edges
Pale pink nail polish
White nail polish
A top coat or clear nail polish
Start by removing any previous nail polish from your nails. Then buff your nails to get neat and smooth edges. Buffing will make your nails shiny and the nail polish goes on smooth.
Using a pale pink nail polish, paint your nails. It is used as base coat, many brands produce base coat with vitamins to strengthen the nails. Let this coat dry.
Paint the tips of your nail with white nail polish. Carefully, start from the side of the nail and work all the way across. Create a line close to the pink line where the white part of your nail starts. Wait until the coat dries. You can use another coat depending on the thickness of the first coat. It might look rough for the first time but with regular practice you can achieve perfection.
Now comes the final step. Once the coat has completely dried, apply a clear nail polish. It adds shine and seals your French manicure. Let it dry completely before any activity.
You can get a French manicure kit from a drug store. The kit contains required nail polishes to give a French manicure. Also, if you want a perfect manicure with almost no effort you can get sticky nail guides. These are easy to place on your nails individually avoiding the chance of nail polish to spill outside the nails.
White French manicures are classy but you can use any color of your choice depending on the occasion.