Summer is here and its time to get care free. That is why we bring you the coolest summer trends. If you're bored with same flat straight hair then its time to add some vibe to it. Beach waves require only a few step but first you need a sea salt spray. Sea salt sprays are used to give volume and texture to your hair. You can buy this at any drug store from high-end brands. To get the most natural look, its best to make your own and you'll probably save few bucks.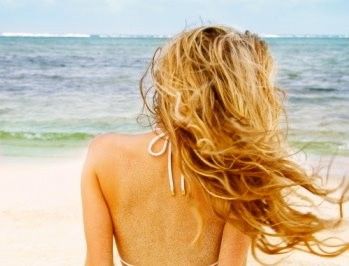 Beach waves have graced many red carpets worldwide. You can use this everyday to make your hair look like you just came back from the beach. There are so many ways to make it including different ingredients, but here is an easy one that anyone can make at home.
To make your own sea salt spray, you'll need :
Clean spray bottle
1 cup of distilled water
1-2 teaspoon Sea salt
1-2 teaspoon Hair gel ( It holds the waves and helps to set the salt style)
4-5 drops of essential oil (optional)
Steps:
Add water and sea salt in the spray bottle and shake well until the salt is completely dissolved.
Now add hair gel and you favourite essential oil. Before using, shake the bottle well so that the water and oil are well combined. You sea salt spray is ready to use.
Spray this over damp hair and lightly scrunch your hair to get the perfect beach waves. Since, it has no preservatives you should store it in a cool and dry place. If you don't use it regularly and want the sea salt spray to last longer you can also keep it in the fridge.
Image via pinterest.com