Country star, Taylor swift has revealed the look of her first ever fragrance, named "Wonderstruck". The fragrance will be available in stores in October.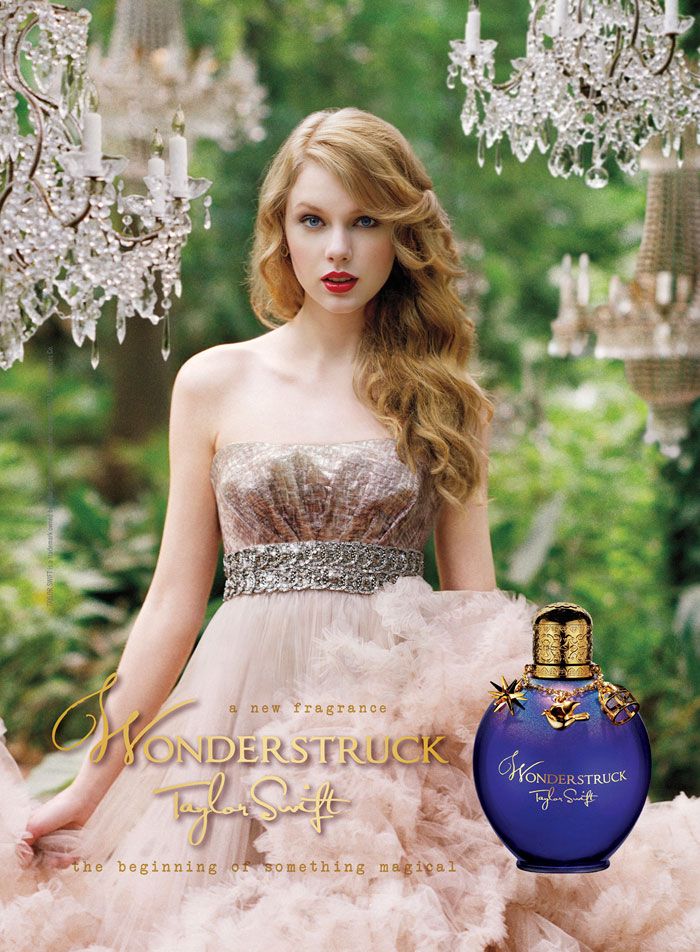 Taylor partnered with beauty company Elizabeth Arden to create this fragrance. Scent of Wonderstruck features a hint of freesia, apple blossom, honeysuckle, white hibiscus, golden ambre, sandalwood, raspberry and vanilla.
The Wonderstruck oval bottle is deep purple with iridescence and decorated with three gold charms, a birdcage, a dove and the Moravian star. The package will feature a gold embossed "13" which is Taylor Swift's lucky number.
"I share personal life experiences through my music, and my fragrance will allow me to share these experiences with my fans in a completely different and new way, Falling in love is a moment every girl daydreams about, and Wonderstruck represents that magical feeling of promise and hope and intrigue. It was fascinating to learn that you could layer so many different scents to create a beautiful end result." Swift told Women's Wear Daily.
The ad features Taylor in a beautiful gown with trees and chandeliers in the background, almost like shes been pulled out of a fairy tale. The name of her fragrance is inspired from her song "Enchanted" after the lyric "I'm wonderstruck blushing all the way home"
The release of this enchanting fragrance is perfectly timed for fall and expected to be sold out quickly. Grab yourself a bottle of Wonderstruck this fall for a magical experience.
You can order now Taylor Swift Wonderstruck Perfume for Women 1.7 oz Eau De Parfum Spray

and Taylor Swift Wonderstruck Perfume for Women 0.33 oz Eau De Parfum Rollerball
at Amazon.com
Image source: www.taylorswift.com
What do you think about Taylor Swift's new fragrance Wonderstruck?