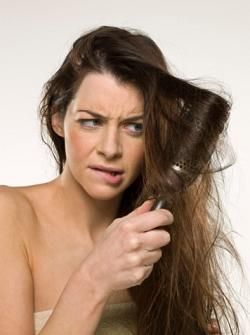 Do you struggle every day with tangled hair? Tangled hair is a headache unless you're Rapunzel. The reason tangled hair is difficult to ease is that your hair is dry and is in need of deep nourishment. Shampoos, heat, styling and environmental pollution are the contributing factors for difficult to smooth hair. While brushing out tangles, hair breaks and you get a brush full of hair which is distressing.
Here are some easy tips on how to keep your hair tangle free:
Brush your hair before washing so that you don't end up with a knotted mess. Our hair is more tangled after washing. Never pull the tangles while brushing. Brush below the tangle and you will notice that your hair will get free from the tangles.
Wash your hair every other day. Everyday shampoo will strip moisture out of your hair. Your natural oils and sebum are important to keep your hair healthy and protect the hair follicle. We know it is important to keep your scalp clean but sebum and oils have a purpose too. Washing every other day will make sure that your hair and scalp is not totally dry which is a cause of damaged and tangled hair.
After shampoo, use a deep nourishing conditioner. Now is the best time to smooth tangles. Before rinsing the conditioner, use a wide tooth comb. Gently comb through your hair and remove all knots.
The key ingredient found in many conditioners is Silicone. It protects your hair from humidity and prevents frizz. It also gives your hair shine.
On damp hair, spray a detangling spray or serum. This will make brushing easier for you. Try a detangling brush. There are many detangling hair brushes available in the market which have great reviews.
Regular trimmings will keep the split ends away. As your hair grows, the ends get dry and split up. This makes your hair lose its shine and silky feel. Dry and split hair is more likely to get tangled. Get regular trimmings every 6-7 weeks. Also, try to minimize dying your hair especially if you have longer hair.
More for you
DIY Itchy Scalp & Dandruff Treatments
10 Hairstyles For The Holiday Season