Pores are tiny hair follicles on our skin. Oil and dirt clog your pores which stretch the pore, making it appear large. Large pores make your skin look uneven and dull. To make them appear smaller, many natural ingredients are effective.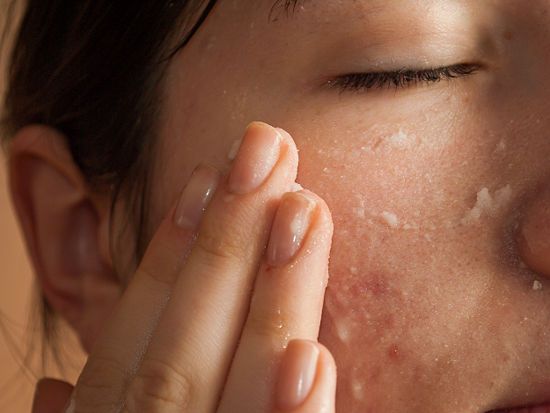 Here are 8 easy tips to shrink large pores naturally:
Egg white mask is an all natural mask which really works. Egg white tightens your skin and has acne fighting properties. Make a mask with 1 egg white and lemon juice and apply on your skin. Here is the full method.
Apple cider vinegar is a natural astringent. It is used as a toner when diluted with water. Dip a cotton ball in water and apple cider vinegar and apply all over your face. This toner will naturally tighten your skin, shrink large pores and reduce inflammation due to acne.
Yogurt is an amazing cleanser which clears your pores. The lactic acid in yogurt dissolves impurities in pores and tighten them. Take a tbsp of yogurt and apply on your face. Leave it on for 10 minutes then wipe off with a wet wash-cloth and rinse. Yogurt will help reduce fine lines and prevent wrinkles.
Avoid over washing your face as it dries out your face. Your pores will produce more oil to compensate. Therefore, use a mild cleanser twice a day.
Make a baking soda and water paste. Apply on your face and gently massage in circular motions. Rinse after 30 seconds. Baking soda is an inexpensive exfoliator which fights acne and blackheads. This will keep your pores clean.
Exfoliate regularly. Use natural exfoliants such as sugar, oatmeal, and scrubs such as those containing walnut shell.
There are many pore minimizing primers available which help to reduce the appearance of large pores before applying makeup.
After taking a hot shower, splash cold water on your face to close the pores or rub an ice cube directly on your face.
What are your tips and tricks for large pores?
More for you
Large Pores Most Effective Treatments (Infographic)
The Guide To Oil-Free & Non-Comedogenic Products
10 Skin Care Products Under $15 to Help You Get Clear Skin
15 Tips to Get Glowing Skin Naturally