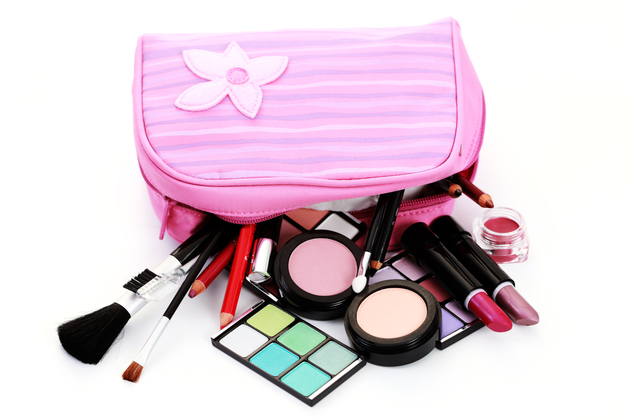 Summer is the season when less is more due to the heat and humidity. If you live in a city that is humid, less than less will be more.
In this post, I will share a few "must haves" of a makeup bag that you need for the summer time. The products listed below are for those who like and want to do makeup in the daytime or on an everyday basis. One can definitely add and minus as per liking.
SUMMER MAKEUP BAG ESSENTIALS:
1. Sunscreen.
2. Mattifying/Foundation powder
3. Bronzer
4. Mascara
5. Bright Lipstick / Lip stain

Sunscreen needs to be a priority whole year round, especially in summer when the sun is shining bright. Make sure you carry it in your bag and apply it 15 minutes before leaving the house. If you are planning to apply makeup, you can apply it then too. Once you are back home, make sure to wash it off as soon as you enter the home. You don't want to keep your pores clogged and then get un-invited acne/pimples. If you are out all day, and you sweat; clean your face with wet wipes and apply the sunscreen again after a few hours, because after few hours and after a lot of sweating, sunscreen stops working and slides off your face.
Mattifying/Foundation powder for summers it is best to stick to powders than to creams and liquid foundations because you want to keep the makeup for the daytime/every day as little as possible. If you are looking for coverage, get foundation powders that are available in most of the local and high-end brands. Liquids and creams can clog the pores, resulting in a lot of sweating and pimples later on. Plus, you need a nice matte face instead of a bag of oil on the face.
Bronzer adds on to an everyday makeup IF you prefer. It gives a nice sun-kissed summery glow without making your face look like you have done makeup. Bronzer adds color to the face, if it has slight sheen it's even better.
Mascara is one eye makeup essential. Skip everything and add 2 coats of waterproof volumizing and lengthening mascara, and you need nothing else to brighten up the eyes. It's a perfect everyday/daytime look to enhance your eyes.
Lipstick/Lipstain bright pout is all about summers when less is more, the bright color pops and brightens the entire face due to which you don't need a lot on the face. The choice is yours between lipstick and lip stain, lip stain gives a more natural and stay put for hours. Some good staying power lipsticks can be used lightly too for lips staining.
Good Luck!
More for you
10 Beauty Hacks Every Girl Should Know
6 Weird Beauty Hacks That Actually Work
How to Take Care of Your Skin During Summer
How to Make Your Makeup Summer/Heat and Humidity-Proof