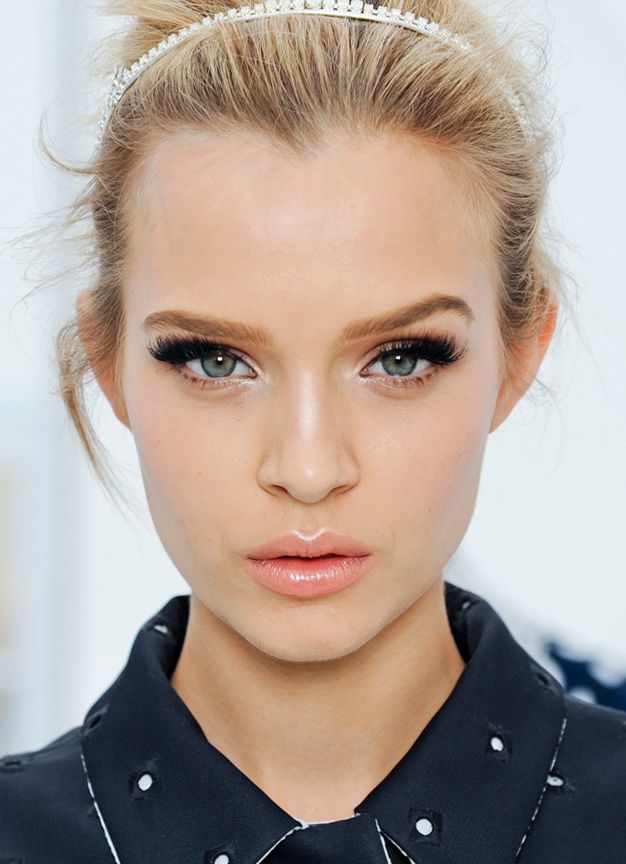 Contouring and highlighting go hand in hand, and they can be thought of as the two principal ingredients in a cake that just won't sit well without each other. Before you begin, we must tell you that there is a fine matted line between playing up your best features and caking your face with bronzer and powder. You need to understand that perfect contouring is the art of subtlety, and it allows you to chisel out your cheekbones, give your nose a slimming effect and sculpt your face for a camera-ready moment.
Easy Contouring and Strobing Tips:
Contouring can be done with any cream, pencil or powder, as long as it does not shimmer. Now, remember, the contouring product that you invest in must be at least two shades darker than your skin. The areas that you will be covering include your forehead, cheekbones, nose, and chin. Before we begin to describe the method, listen to a very important piece of advice:
Ladies, old school contouring has been forced out of the makeup arena this year. Thus, you can forget about enhancing your face with heavy shading. Dramatic makeup that encourages you to indulge in layer after layer of heavy shading and dark angles is completely out of fashion, and you don't want to be caught dead wearing it. Beauty trends in 2016 are all about sculpting your cheekbones and tricking your eyes to give your face a lovely slimming effect.
All you need is two products: one matte shading cream and a highlighter. You can always use powder if that settles well on your skin type; however, we would strongly recommend you to contour with a cream as it will give you that natural and flawless finish that powder can simply not compete against. But if a powder is your thing, we recommend you to go for a sheer formula to give your face a soft and smooth effect. Whichever product you decide to use, make sure that you don't layer your skin with different textures. For instance, if you are a using a cream foundation, you need to stick to creams to avoid the cakey effect. If you use powder and cream, your skin will begin to cake and the products will not blend to give you a smooth finish.
Your highlighter must be nearly the shade of your skin tone, with a tiny hint of shimmer. If you are planning on buying something too chalky or shiny, drop it right away because unnatural makeup is a big no-no this year. We advise you to go to for liquid highlight formulas, especially the ones offered by NARS or Mac. If your skin is fair, go for a pearly white highlighter. For a medium dark or dark complexion, a gold highlighter will give you the perfect natural glow.
Pick out the correct tools for the job, else you will never get it right. If you are applying a cream, blend it nicely with your fingers. For powder, you need a nice brush with strong bristles. The easiest way to nicely contour all the hollows in your cheeks is to begin by sucking in your cheeks. Now, you need to shade the top of your cheeks and inwards towards the hollow. Shade slightly beneath the sunken area of your cheeks, and make sure you stop just an inch from the corner of your mouth. Now, use your fingers, or a beauty blender to blend the shade. Then, create two lines of the cream that begin from your brows and run down alongside the bridge of your brush. Slim down your nose with a nice, small brush until the shading cream has blended nicely.
As we said, contouring is useless without clever highlighting; but you absolutely do not want to end up slapping on too much of it. Let us divulge a secret highlight trick that we picked up from the makeup artist Mally Roncal. You need to squeeze out drops of the highlight on your ring, middle and pointer finger, and then rub them against the same fingers on your other hand. Now, gently and lightly, tap your fingers on our cheekbones, your brow bones, the tip of your nose, and on the center of your chin. Voila! Dewy and flawlessly smooth skin just like that…..
Strobing? Where did that come from?
Strobing is the antidote for all those who are sick of contouring. Yes, that's absolutely right, and this trend has created a huge frenzy among makeup bloggers as well as some of the most acclaimed makeup artists worldwide.
Strobing is about saying goodbye to layers and layers of foundation and giving your skin the natural glow using a highlighter. Doesn't this sound perfect for summers? The one time of the year when all you want is to let your skin breathe, and not get embarrassed with makeup that comes off in peels of sweat.
So, are you ready to dump all those contour palettes and countless shading varieties that take hours to apply and cost you an arm and a leg? Forget contouring and pick one amazing highlighter that works best for your skin type and skin tone. We suggest you invest in the MAC Strobe Cream and trust us, it will be your most worthwhile makeup investment this year.
Strobing is not a technique, rather, it is more of an art. There is no one specific guideline for strobing. In fact, it is something that will only come to you naturally as you to manipulate the effects of natural light on your face. The trick is to enhance the features that are most affected by the natural light.
Strobing is all about brightening up your best features, and you need to ask yourself, which of your features get most played up by natural eyes? If that gets a bit difficult, try this trick.
Begin by squeezing out some of the highlighters on your cupid's bow, the inner corners of your eyes, the brow bone, and your chin, along with the bridge of your nose and the apples of your cheek.
Highlighting your forehead is a great trick, but if your skin tends to get too oily, avoid it. That's all you need to do to get that perfect dewy look. If you feel completely naked without foundation, it is always okay to put a light layer of your creamy foundation around the rest of your face, and some on the highlighted areas. However, make sure it does not look cakey or unnatural.
Take a cue from this post and nail your makeup this summer.
More for you
6 Weird Beauty Hacks That Actually Work
5 Ways to Correct Uneven Skin Tone